SHIPPING
FREE U.S. SHIPPING
Once you place your order, you will receive an order confirmation and a shipping notification email with a tracking number. Orders are processed daily Monday through Friday, excluding weekends and holidays. For deliveries in the United States, USPS will deliver your package within 3-5 business days. Packages delivered outside of the U.S. arrive within 7-10 days via USPS or DHL.
CHECKING THE STATUS OF YOUR ORDER
Once you place your order, you will receive an email with shipping confirmation and tracking information to check on the delivery status of your package.
INTERNATIONAL FEES
For international shipments, all applicable customs fees, taxes, and duties are the sole responsibility of the customer. Customs authorities require that we state the value of your order directly on your package. It is at the sole discretion of customs agents to release your package. Note that in rare occasions, customs agents may delay delivery of some packages.
RETURNS
If you would like to return or exchange your item, email us with your order number at: info@badichibelts.com within 30 days of purchase and we will email you a return label. Simply print the return label and attach it to your package and ship it back to us. Once your return is received in the original condition with no signs of wear, you will be issued a refund within 7-10 business days. You may also return your item at one of our local boutiques within 30 days of your purchase. Please note that original shipping charges are non-refundable.
CUSTOMER WARRANTY
Our belts are made for lasting wear, so we offer our customers a one-year warranty from the date of purchase. You can find leather cleaning instructions under "Care Instructions."
STORE CREDIT
Store Credit is only provided when previously purchased items have been returned and you have selected "Store Credit" as the refund method.
Store credit does not expire. Your store credit can be used anytime on our website or at our SoHo boutique.
Your store credit cannot be transferred to another person or account.
Store credit may be used to purchase gift cards, which can be used online or in our SoHo boutique.
If the amount of your purchase exceeds the value of your store credit, the remaining balance due will require an additional method of payment.
Store credit is provided in U.S. dollars.
SIZING
Select one of our measurement options below:
1) Use measuring tape
It's simple. Measure the entire length of an existing belt
from tip
to the end of the buckle.
That's it!
Hint: it's not the size printed on your belt
2) Belt size :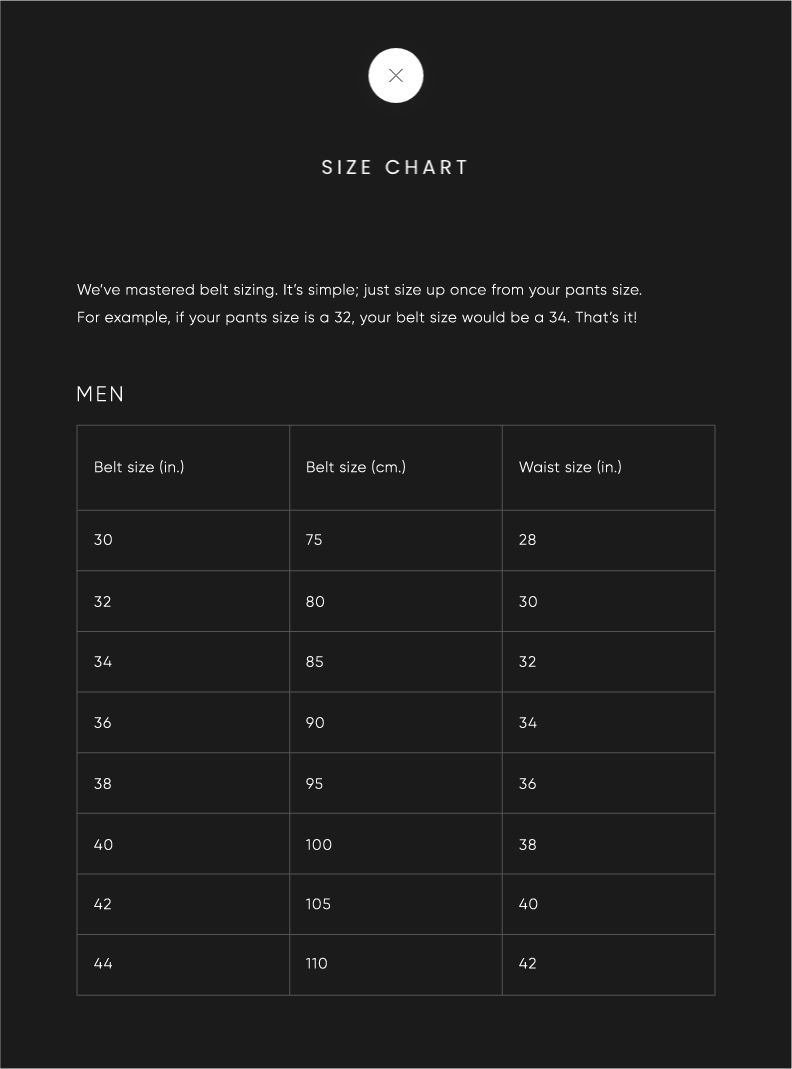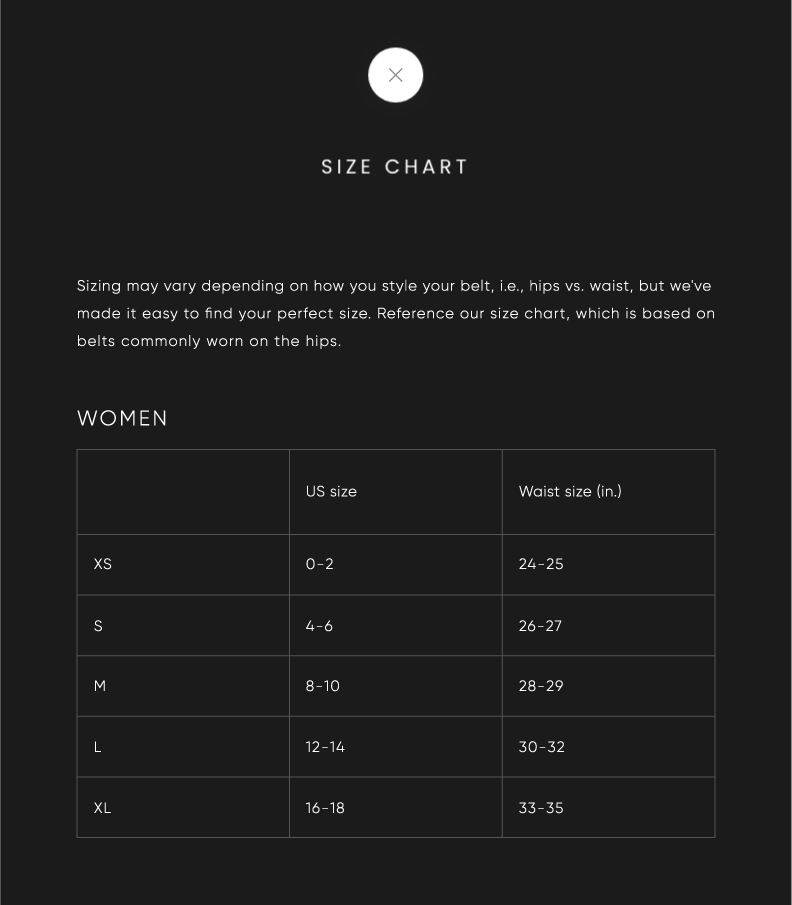 CARE INSTRUCTIONS
The comfort and appearance of all Badichi belts improve with time and wear. Proper care of your belt ensures the life of the belt and preserves its appearance.
Caring for your leather strap:
To restore shine and color, apply a leather balm with a clean, dry cloth, allowing the strap to absorb the balm for several minutes before polishing it with a soft cloth.
Generally, dirt and dust stains may be removed from the leather surface by gently wiping with a damp cloth. For stains that have permeated the surface, spray the stained area with a non-water-based leather cleaner and gently rub the stain with a soft cloth.
Store your belt in a breathable space to avoid drying and cracking.
PRIVACY POLICY
Badichi Belts ensures that all information about our customers is treated appropriately and in accordance with the Data Protection Act 1998. We will not sell your personal information to any third parties.
The information we collect from you is intended to:
a) Process your order efficiently.
b) Ensure delivery of your order to the correct address.
c) Contact you with offers (through email only).
Any information submitted to Badichi Belts via survey will be used solely to improve your shopping experience and will never be shared with third parties or used for other purposes.
We will telephone you only regarding your order. We may use customer information for payment recovery or fraud investigations. Please note that we are also compliant to disclose information if requested by the police.
FAQ:
Can I change something in my order?
If you need to modify your order, please contact info@badichibelts.com. We generally process orders on the same business day that your order is received. Once we have processed your order and your belt has been customized, we will not be able to make any changes.
When will my order ship?
Most orders ship within 24 hours, excluding weekends or holidays.
What am I paying for shipping?
Shipments within the United States are free. International shipping charges outside of the U.S. are a $25 flat rate.
Where is my order shipping confirmation?
Once your order ships, you will receive an email confirmation. If you did not receive an email from us, please check your spam folder and add info@badichibelts.com to your safe sender list. You can also check your order status by signing into your Badichi account on our website.
What if my belt is too short?
Contact info@badichibelts.com within 30 days of purchase explaining how much additional length your belt needs, and we will email you a return shipping label. Once we receive your return, we will ship your belt to you complete with the longer strap.
What if my belt is too long?
If your belt is the wrong length, please contact info@badichibelts.com. When the belt is too long, our customers find it most convenient to visit their local shoemaker who has all the tools necessary to resize the leather strap within minutes. You may also ship the belt back to us or visit our boutique and we'll be more than happy to adjust the belt for you. If you prefer to ship the belt to us, please email info@badichibelts.com with your request. If it is within 30 days of your purchase we will email you a return shipping label, shorten the belt and ship it back free of charge within 7 days. If it is after the 30 days of purchase there will be $10 shipping fee.